We live and breathe by our slogan here at BinderRings: "Simple products done well." Our company's specific focus is to bring high-quality products – and we excel at doing just that!  Add in our great price point…and you have a winner with BinderRings.
With nearly a decade in the custom visual display and dry erase industry, we realized the shortage of magnetic accessories that truly deliver.  With customers demanding high-quality, we developed our very own manufacturing process for the magnetic binder rings we sell. As our amazing customers are typically needing large volumes of products, we're able to offer them at a price point you won't find anywhere else.
We offer a no-questions-asked, lifetime warranty for the magnetic assembly on most of our magnetic products.  If the magnet separates from the binder ring or its housing, we promise to replace it free of charge. We encourage the comparison of our magnetic binder rings to those of our competitors – we are confident that you won't find a better value!  We know if you give our products a try, you won't be disappointed. Visit our Inspiration page to spark your imagination on how you and your team can accomplish more with BinderRings
In organized, efficient environments,
everyone accomplishes more.
Use our magnetized hanging binders and vinyl sheet protectors to:
Communicate classroom or office procedures.
Outline responsibilities and expectations.
Display safety instructions for emergencies like fires or storms.
Keep standard operating procedures (SOPs) in sight for everyone's use.
Store important documents safely, protected from damage or loss.
Hold office or school records in easy-to-locate, labeled binders.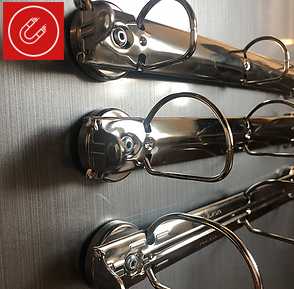 Reap the results of an efficient office,
classroom or organization.
Keep your work areas conducive to high-quality work.
Create an organized, uncluttered atmosphere in your school, office, business, shop or plant.
Store important items in our
vinyl protector sheets
Store critical information in our vinyl sheet protectors to keep pages free from dust, dirt and environmental damage.
Stack your protected pages in our magnetic hanging binders to keep material handy, organized and available for quick access.
Keep safety instructions, classroom protocol, office procedures, and standard operating procedures (SOPs) clean, legible and close at hand.
Hang our magnetic hanging binder rings to save shelf space
Keep your valuable documents right where you can find them
Fill our magnetic hanging binders with your vinyl-protected, important printouts, lists, certificates, SOPs, samples, instructions, etc.
Put emergency instructions and must-have materials, along with critical classroom, office, or work records, into our magnetic hanging binders for easy access.
Label each BinderRings' storage unit so supervisors, substitutes, or temporary employees can easily find them.
Assign a binder, along with access to plastic vinyl protector sheets, to each student, employee or customer to keep records of their work, comments, special needs, etc, well-organized and dust-free.
Place our binders throughout your building, classroom, office, or plant for easy access to what you need – when you need it.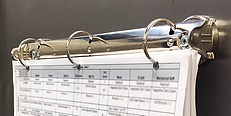 Our magnetic hanging ring binders are made of high-grade
materials that can hold as much as 10Lbs.